← Back
2020: 1,000 battery-electric buses registered in Western Europe (excluding Q4)
2 November 2020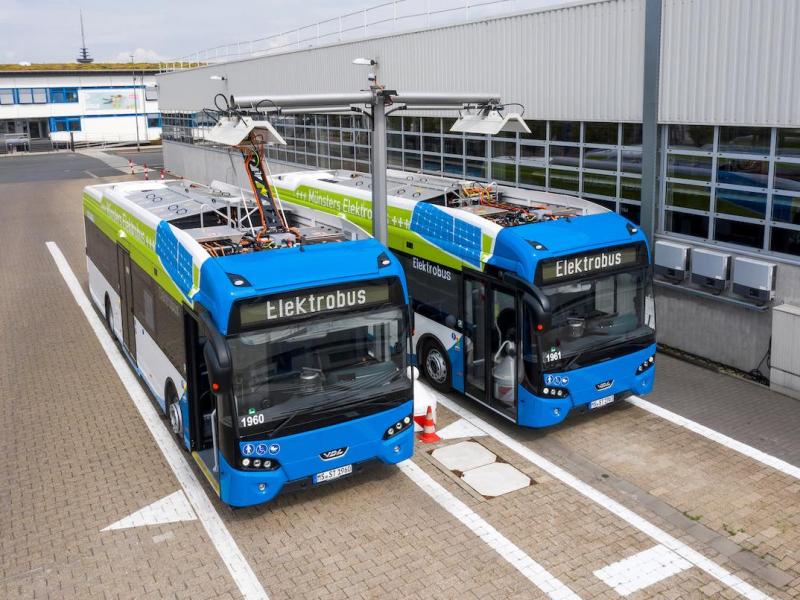 Article by Sustainable-Bus.
Source photo: Source: Stadtwerke Münster – MünsterView / Heiner Witte
Slightly over 1,000 battery-electric buses registered in Western European countries (with the addition of Poland) in the first three quarters of 2020. A year that, looking at the market, is following the same pattern as 2019: also last year there were a little over 1,000 zero emission buses over 6 ton registered between January and September. These figures on the electric bus market are collected and analyzed by consulting firm Chatrou – CME Solutions.
Coronavirus-crisis will impact on 2021
The crisis related to the pandemic is expected to have negative implications on next year, as in this dramatic 2020 more than a tender was postponed or deleted. A situation highlighted, for instance, by Ebusco's CEO Peter Bijvelds with Sustainable Bus in a recent interview. This will have consequences also on the electric bus market.
Anyhow, the whole city bus market this year has narrowed comparing with 2019. Still according to Chatrou – CME Solutions figures, in the period Jan-June there had been 1,300 city buses, 500 intercity and 3,500 coaches missing compared to 2019. Western European countries registered a -12% in Q1 and -27% in April-May with regards to Class I registrations.
Focusing on the city bus segment, it must be highlighted that 2019 has been a peculiar year, with exceptionally high registrations volume: the 14,392 Class I registration of last year marked indeed a +30% as against the mean value recorded in the years from 2009 to 2018).
Electric bus market 2020 account for 12% of the registrations
Chatrou – CME Solutions recalls that «in the period 2012 up to and including September 2020, a total of 4.068 battery electric city buses have been registered in Western-Europe and Poland (with GVW >8 tonnes)».
VDL Bus & Coach and Netherlands are leading the charts of top seller manufacturer and country with the widest battery-electric bus deployment respectively, still considering the whole period 2012 – September 2020. VDL has registered as many as 770 e-buses (18.9 market share), while in the Netherlands 880 battery-electric buses are running.
In 2020 (Jan-Sept), concerning the electric bus market, there have been a total of 8,571 city buses registered in the considered countries (Netherlands, Germany, UK, France, Poland, Sweden, Norway, Spain, Italy, Luxembourg, Finland, Belgium, Denmark, Portugal, Switzerland, Iceland, Austria, Greece). Then, the above-mentioned 1,047 battery-electric registrations account for around 12.2 percent of all new city buses.
A step back: 2019, a record year for the electric bus market
Stepping backward, in 2019 (whole year) nearly 12 per cent of city buses registered were battery-electric. There were more e-bus registrations last year than in the period 2012 – 2018. The thresold of 1,000 electric bus units was already exceeded in September, and the year ended with as many as 1,687 e-buses registered on a total market of 14,392 citybuses. In 2018 they had been 548. That is to say: between 2018 and 2019 the number of zero emission buses (excluding trolleybuses) registered in Europe has tripled.