← Back
CBEP Final Event: join us in Barcelona!
12 May 2023
Join the Final Event of the Clean Bus Europe Platform at the UITP Summit on 6 and 7 June!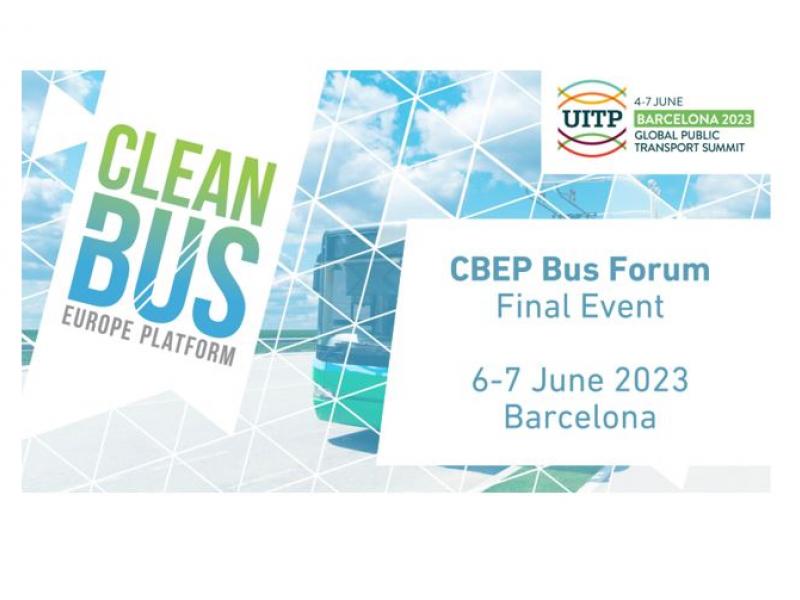 CBEP Bus Forum, 7 June
The CBEP Bus Forum (09.00 - 13.00) will gather CBEP partners and friends to share project results and lessons learned. Target cities will share achievements and next steps. We will also learn about the CBEP pioneering work on social dialogue and the impacts of clean bus technologies on the workforce. To close the day, we will discuss about future perspectives of clean bus deployment with an expert panel made of CBEP Partners and invited guests. The complete agenda can be found below.
Registration is mandatory for this event. You can register here.
Activities at the UITP Exhibition area on 6 June
In addition, on 6 June there is a selection of clean bus activities and events to make the most of your participation. Have a look to the overview below and choose your program!
14.00 - 15.00 Spotlight Forum Session
Hall 6, Spotlight Forum B
This session takes place in Exhibition Area. Participation is free and no registration is needed. Meet VG Mobility Perdomo, Voith, PSI, and Systra to learn how digitalisation can support optimising depot operation!
15.00 - 15.45 Innovation in Spotlight
Hall 7, Spotlight Forum A
This session takes place in Exhibition Area. Participation is free and no registration is needed.
Clean Bus Technologies have shown a great potential to decarbonize public transport in Europe and beyond. In this context, facilitating the exchange of expertise in the sector is a key factor for successful deployment of Clean Buses.
In this session, participants will hear about the perspectives of different stakeholders how knowledge exchange and innovation initiatives play an important role to enable real implementation and collectively advancing the public transport sector worldwide.
16.30 - 17.30 Innovation Guided Tours - On the road to greener cities with clean and zero-emissions buses
Alternative propulsion innovations and new design concepts are moving decarbonisation forward in road transport. During this tour, cleaner, energy efficient and more silent vehicles will be presented with participants able to experience the latest vehicles revealed by leading bus manufacturers.
Meet BlueBus, Daimler Buses, Ebusco, MAN Truck & Bus SE, SCANIA, and VDL Bus & Coach!
This tour is organised by UITP and it is open to all Global Summit participants. Free registration is mandatory for the Innovation Guided Tours (opens on 18 May). You can find the whole program here.
The complete programme of the UITP Summit is available on the website.