← Back
Clean Bus Europe Platform at ZEB Conference in Paris
22 November 2021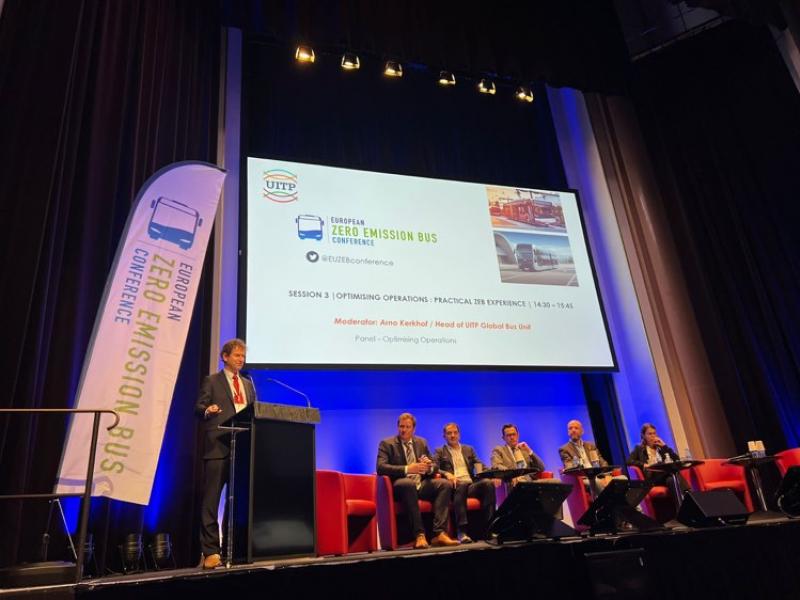 From 17 to 19 November 2021, the ZEB Conference was held in Paris, and the Clean Bus Europe Platform was present!
Together with the JIVE project, the CBEP on 19 November organised a training workshop on fuel cell buses, updating participants on the state of fuel cells buses deployment in JIVE/JIVE2 and presenting initial lessons learned on fuel cell bus operation.
Participants could learn first-hand from OV-Bureau Groningen-Drenthe and Wuppertal SW Mobil the main learnings of the interplay of fuel cell fleets with the refuelling infrastructure, its main barriers, and the solutions to address them.
Key takeaways from the training session were summarised by UITP, who underlined the need of data to properly monitor and optimise operations, as well as the role of suitable legal and financial frameworks to support technological competitiveness and create stimulus for operators to deploy fuel cell buses.
The workshop was closed with a ride on a fuel cell bus, supported by Caetano Bus, who presented its main features and addressed participants questions.
In addition, UITP (the International Association of Public transport), presented the Clean Bus EU Platform at the session 'Optimising Operators: Practical ZEB Experience'. The session heard from operators, sharing their strategies, experiences and lessons learned from the challenges faced during their transition to zero emission fleets.
Alongside UITP, the event gathered Transdev, RATP Dev, Syndicat Mixte des Transports Urbains Pau-Porte des Pyrenees (SMTU), Keolis, and GoAhead.
Arno Kerkhof, Head of the Bus Unit at UITP, emphasised how UITP continues to help the sector through the learnings of its many clean bus projects such as the Clean Bus Europe Platform and ASSURED.