← Back
UITP holds first fuel cell electric bus training organised by JIVE Projects in partnership with Clean Bus Europe Platform
10 November 2020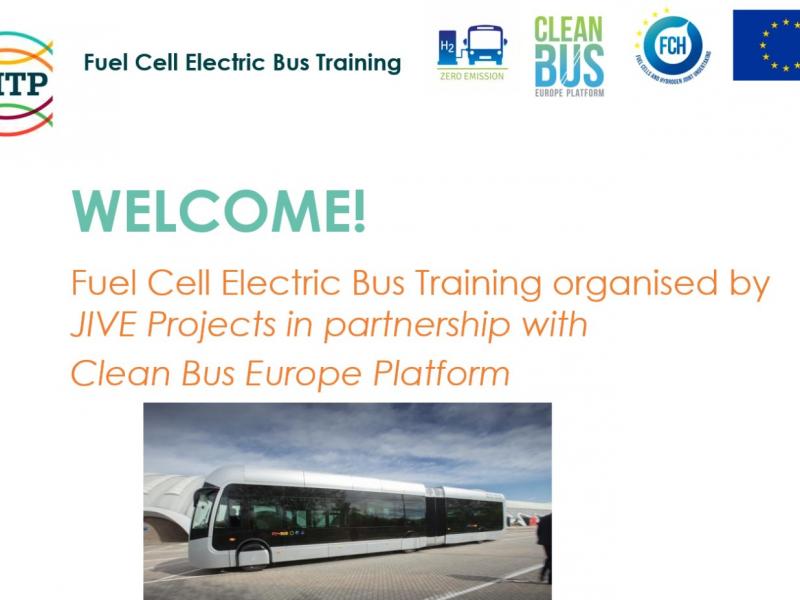 Following the UITP "Fuel Cell Buses: Best Practices and Commercialisation Approaches" Knowledge Brief, UITP further continued its support for the deployment of fuel cell hydrogen bus solutions by organising its first ever training on the technology on 3 November 2020. The training was organised by the JIVE projects in collaboration with Clean Bus Europe Platform.
The JIVE and JIVE 2 projects support the commercialisation of fuel cell bus technology to become a more mainstream option in city transport networks. These project will deploy 294 zero emission fuel cell hydrogen buses and associated infrastructure (under the MEHRLIN project) in 20 cities across Europe by early 2020s. This will be the largest fuel cell bus deployment in Europe to date.
Recently, the projects celebrated a milestone, seeing over 200 fuel cell hydrogen buses have been ordered by 14 cities and regions and 50 of those buses are already in operation in cities like Pau, Wuppertal and Cologne. The training, therefore, came in a timely manner to capitalise on the best practices and learnings to equip participants with up-to-date and necessary information about the planning, procurement, operations and maintenance of fuel cell buses.
The training gathered around 100 participants consisting of PTOs, PTAs, city councils and consultants who are mainly exploring the technology and its conditions as well as planning for tendering. We found out that the participants consider including fuel cell hydrogen buses in their city fleets because of political reasons, environmental as well as operational benefits of the fuel cell technology.
The training hosted three sessions that focused on main aspects of deploying fuel cell hydrogen buses. The first session focused on policy and regulatory frameworks in place that support the deployment of fuel cell hydrogen buses. It was discussed that EU-level legislation such as the Clean Vehicles Directive and the Alternative Fuels Infrastructure Directive has an impact to the uptake of fuel cell technology.
Also, the participants were presented the Clean Bus Europe Platform and experienced how the JIVE projects have been creating a path for scaled hydrogen bus fleets by supporting the commercialisation of the technology in Europe. JIVE also proved that fuel cell buses are a good choice for operators tackling long/challenging routes, as they provide operational flexibility in complementarity with battery buses and require no major changes in user behaviour, operation or refuelling.
The second session focused on planning and procurement technologies of fuel cell bus and hydrogen refueling infrastructure by focusing on JIVE best practice approaches and the experience of Cologne as RVK (regional operator), who is underway to deploy 50 buses. In the session we noted that collaboration with all stakeholders involved such as OEMs, hydrogen suppliers, hydrogen refuelling station (HRS) operators, and PTOs should be started from an early stage. Furthermore, already existing knowledge created by JIVE projects should be consulted.
Some of the other conclusions from the session were:
• The procurement process for bus and HRS/hydrogen supply should be parallel to get both systems ready in operation;
• In terms of hydrogen supply, looking into your own local specificities is important. A long term contract for hydrogen supplies can be obtained provided the customer commits to a reasonably high level of demand and break clauses are included;
• In terms of hydrogen refuelling stations options it is important to address pros and cons of operating the HRS yourself or with an operator/general contractor as well as different stations locations options (own property/public);
The final session elaborated on first insights in operating fuel cell buses by the JIVE cities, that already deployed or about to deploy fuel cell buses. In this sense, the session aimed to provide strategies about service entry, organisation of bus depots and maintenance regimes. Participants had the opportunity to see three cases from cities of Pau, Aberdeen and Brighton.
In Pau, eight 18 meter fuel cell hydrogen buses are deployed in a brand-new BRT line with over 80% of the route completely segregated from private where hydrogen operation shows reliable and zero emission operational performance. Such model will also be commercially used in Brighton where 22 single decker fuel cell hydrogen buses will be deployed in Gatwick Airport network including green generation of hydrogen. Moreover, fifteen 12 meter double decker fuel cell hydrogen buses that will run on two urban bus networks are nearly operational in Aberdeen.
Some of the conclusions from this session are:
• Safety is first before deploying fuel cell buses: standard risk assessment needs to be carried out; adaptation to the bus workshop/depot are required (e.g. sensors and ventilation);
• Training drivers and technicians on high voltage, maintenance, and hydrogen specific features are important;
• Setting up maintenance agreements on the buses and infrastructure are very important. Maintenance agreements may be different such as full maintenance; with a price/km (bus); price/year (HRS); inclusion of training and spare parts storage ;
Four more trainings will be organised by the JIVE projects on specific topics of interest in fuel cell hydrogen buses (e.g. maintenance, operations). Contact UITP (efe.usanmaz@uitp.org or aida.abdulah@uitp.org) for more information about fuel cell bus knowledge and future workshops/trainings.
Acknowledgements:
The JIVE and JIVE 2 projects have received funding from the Fuel Cells and Hydrogen 2 Joint Undertaking under grant agreements No 735582 and 779563. This Joint Undertaking receives support from the European Union's Horizon 2020 research and innovation programme, Hydrogen Europe and Hydrogen Europe Research.